There is one night in this house on which I never receive a complaint: spaghetti night. H never complains, and that's really what matters most, because let's face it: kids don't always get flavor, right? In our house, one loves broccoli, one hates it. One loves tomatoes, one hates them. One loves onions (EW!) and one loves them. Spaghetti night is different.
Normally, I will mix up a meaty sauce with ground chicken, tomato sauce, chopped pepperoni, and sometimes a little bit of turkey sausage. I'll toss in my own blend of seasonings, which always changes, throw over some whole wheat organic pasta, and voila! No complaints.
I've been dying to try my hand at a fresher approach to my sauce, though, and when my mother-in-law presented me with a basket full of tomatoes that I'd never be able to finish on my own – I could eat them like apples – I made a promise to experiment.
I'm so glad I did.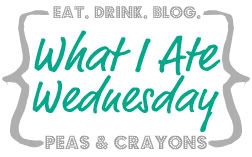 Both girls took a taste…and both girls grabbed spoons out of the drawer and snuck spoonfuls when they thought I wasn't looking. (Yes. Moms do have eyes in the backs of their heads. 😉 )
Success.
The real test was H. He's not a tomato guy, and this marinara is chunkier than the smooth, canned tomato sauce he's used to me using to make my sauces. True story: he had turned away a bowl of chili that he usually eats 3-4 bowls of when he figured out I added a small can of diced (and additionally mashed) tomatoes. Instead of hauling ass away from the stove, his eyes lit up and I got the "now that's good". And for the record, he made his profile picture on Facebook is a photo of my sauce.
SCORE!!!
To get the thumbs up from all three picky eaters means you all get a recipe. 😉 Hope you enjoy.
Ingredients
3 lbs. fresh tomatoes, stems removed and cored (choose your favorite for the flavor you want)
2 tbs. olive oil
2 tbs. minced garlic
2 tsp. garlic salt (or more depending on your taste)
1.5 tbs. red pepper flakes
2-3 tbs. Italian seasoning blend (rosemary, parsley, basil, oregano - whatever you prefer)
Instructions
In a food processor, chop one pound of tomatoes into small chunks.
Pour the chunked tomatoes into a large saucepan over medium heat. Add the olive oil and minced garlic and sauté.
While the chunked tomatoes sauté, puree all remaining tomatoes in a food processor until smooth and add to the saucepan.
Mix in red pepper, garlic salt, and Italian seasoning blend and allow the sauce to simmer for 20 minutes.
Serve over pasta or breaded chicken.
http://liveloveandrun.com/2013/08/recipe-easy-spicy-marinara/