Wowee. Talk about being knocked on my ass, guys. I woke up Thursday morning with a sore throat, an achy body, and a massive headache, and by the end of the day I was down for the count. Friday was even worse, and Saturday I woke up and felt as though my energy was finally back, sore throat was still lingering, knocked me back down later in the evening. By Sunday, I was finally on the upswing, but now I have this pesky cough!!! Can't take it anymore!! We took a good long walk outside at a local National Park, and that seemed to help.
So here it is, Monday, and I still haven't posted about my goals for at least the next few months, now that the half is off. What I was able to accomplish over the days that I was sick was some serious reading and some calculating and planning.
Before I get into those details, I have a few things to announce on Weekly Chase:
You can join the Facebook group here. I've decided to open up a group there, instead of an email, because I'm, well, admittedly terrible with email. I've decided to keep it a closed group, because of privacy reasons, which will be explained in the group.
The link-up will now be open from Monday-Friday. Not everyone can post on Mondays or Tuesdays, and goal setting is never restricted to one or two days, so I've decided to leave it open.
Onto the post. In just the last few weeks of studying for my upcoming exam, I've learned so much about what I need and how to actually design a program. A lot of it was obvious to me, only because I've been reading and learning about a lot of it for several years now, but knowing the science behind it and the tiny little details about the variables to consider in designing a workout? It's fascinating to me.
So, I took the time this weekend to do all the fun calculations that PTs do and designed a workout program for myself with all my little "issues" in mind. What I love about NASM's model is that the first priority is stabilization – focusing on muscle balance. It's exactly what I need right now. So my focus is on stabilization and endurance for the next month.
My plan? (Hang tight…this may get long.)
Mondays, Wednesdays, & Fridays: 30-40 minutes running/cardio & 40-60 minutes yoga*
Tuesdays, Thursdays, & Saturdays: 40-60 minutes total body stabilizing weight training w/focus on core*
* All of those days will include foam rolling and stretching. (I'll give you more details on the specific workouts as the days go on…it'll be my way of staying accountable. I have every workout mapped out and ready to go for the week.)
I'll posts monthly measurement changes as well. That should be fun. Priority #1: avoid the scale.
My main goals are to increase flexibility, maintain/improve endurance, and begin stabilizing and strengthening my muscles. A lot of my weight training will include stability work, because after running through the obvious imbalances I have, I realize there's no way I'll ever improve as a runner if I don't focus on the above for a while. I've been fearing something lately, and I'm not sure what it is. Weakness? Heart? Not sure. All I know is that I want to crush the Blue Ridge half in April. It will be my race.
***
I have also linked up my BodyMedia armband with the MyFitnessPal app on my phone, so I can get a fairly accurate idea of my calorie balance.** I'm curious to see just how far off I've been and what needs to change. Logging my food has brought so much to light, and now I need to focus on the balance.
** MyFitnessPal, on its own, is not what I would consider a phenomenal tool to help you figure out your calorie balance. I was able to calculate my balance on my own and manipulate the BodyMedia preferences to get it pretty accurate. MyFitnessPal, however, suggests that I eat over 700 fewer calories than my BMR (just what I need to live). Please use this app strictly as a tool to log your food and physical activity. (Most people I know that use MyFitnessPal will agree with me that it will have you eating far too few calories.)
Back to goals.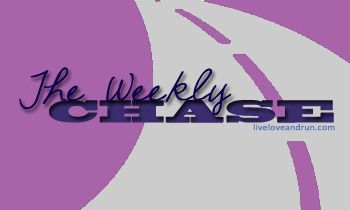 My goals for this week:
Wake up at earlier every morning and go to bed earlier every night. I'd really like to switch my schedule around. I'd like to spend the quiet time in the morning writing, working out, and preparing for the day so that at night I have more time for other things. (That's a post for another day.) My idea would be to wake up at 5AM and go to bed at 10PM. Ha. This night owl will have some adjusting to do.
Complete all 6 workouts for the week.
Increase my water intake. I've been bad about this again. I was doing so well!! Back to 96+ ounces a day.
Okay, I think I've bored you enough with my plans. Tehe. I needed to lay them all out there, though, because you all know how much I love me some blog/twitter accountability!
QOTD: Do you have a daily schedule? How do you manage your time?