Can we talk about how crazy busy the last three days have been for me?
Thursday, I spent the day painting the girls' new room "Plink" & "Sassy Violet". It's so Hannah and Maddie it's not even funny. Haha. I ended the day/night packing until 2AM.
Friday, I woke up at 630AM with Herrick, he went and got the U-Haul, and I packed more and grabbed most of our totes out from under the house. My dad and his friend arrived around 9AM and it was an entire day of moving fun…two separate trips…until 10PM. Tip: If you move on the first or last days of the month, you won't find a good sized U-Haul. Apparently everyone moves then…makes sense. lol But it wasn't over with then! We spent the next hour bringing a dining room table back to the house for staging. Then we dropped the U-Haul off at its original location…and finally sat down to eat something at 11:30/12AM. Of course, the bed wasn't ready yet, so we spent the night on the couch…and began the unpacking and packing process the next morning. Yep. Both. A lot of my grandmother's stuff is still here and most of my dad's is as well. Which means, I got to pack all of it up as I unpacked mine. (Dad, you better love me.) The nice thing about buying a home from family is that things work out less hectic…even if they mean a little more work. Yesterday, I unpacked more, and now most of the upstairs is unpacked.
I'm a little overwhelmed…and quite a bit sore and exhausted and feeling crummy. I'm not sure what's up…whether I'm getting sick or if I'm just burnt out. I think it's the latter. We drove 16 hours (I left my running bag at home…and realized it 2 hours into the trip) to Chicago on the 18th, I ran a half marathon on the 22nd, did days of touristy stuff in Chicago, drove 12 hours home on the 27th, and immediately went into packing and moving mode. One week later, we're in a new home.
Side note: I am so sorry I've been neglecting all of you!!! I haven't been a good blog reading buddy by any means (and I miss the heck out of all the inspiration), but as soon as the hubby gets the wireless hooked up, I'll be ready to catch up. It should be up tonight!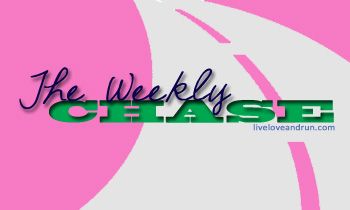 Goal #1: Workouts.
Eh, almost. The days I missed are days I was busting booty getting ready to move and actually moving. I'm not a sit around and dictate kind of wife, either. I help lift heavy with the big guys. 😉
Strength: Monday – Upper, Wednesday – Lower, Friday – Upper
Stretch: Tuesday, Thursday, Saturday – Yoga
Running: Tuesday – 5 miles, Thursday – 3 miles, Saturday – 6 miles
Rest: Sunday Yeah right.
Goal #2: Meals. I'll be logging my food, keeping my BodyMedia band on, and taking serious note on intuitive signals. Oops.
Goal #3: Pampering. Does this count?
We actually have a big tub in the master bathroom this time…and I dumped some oatmeal bath in there and listened to this right outside my window:
…and got about 5 minutes of relaxing time after a long day of unpacking. lol Kids have a time limit.
My goals got a little neglected this past week, as you can see…but being active counts. I wasn't sitting on my butt all week just being lazy, so I'm not too upset. 😉  This week, I'm going to focus on getting some workouts done here at the house. There's one downfall to living here, and it's that my normal running trails aren't here. There aren't any (that I know of yet), but there are a lot of country roads…which means I need to suck it up and carry my keys or something to protect myself. I've seen too many stories about women getting mugged or attacked lately, and it's been playing with my mind. My birthday wish is a treadmill…I hate not having a running buddy.
With that said,
Goal #1: Workouts.
Strength – Monday, Wednesday, Friday full body workouts. I'm going to come up with some cool circuits and hopefully share them with you this week.
Stretch – Tuesday, Thursday, Saturday full yoga sessions. Monday, Wednesday, Friday short yoga sessions for recovery.
Running – may be non-existent for this week. I attempted to run last week, but something's feeling a little pissy right now. It's not my ITB. I've figured that much out. So, I'm going to turn to some cardio DVDs…and take advantage of a nice, big living room.
Goal #2: Meals. They sucked this week. I'm not going to lie, I ate like a douche. Unheathy, quick, I'll-be-sweating-gravy-for-a-week meals. I'm ashamed, but I'm ready to take advantage of a huge kitchen with plenty of space for making new, healthy recipes.
Goal #3: Relax and recoup. I need it. I need to give myself time to relax and distress…and I will. Manicure & pedicure, you name it…whatever it takes.
Hold me accountable…I'm going to try and be a little more active on the Twitter end and in reading blogs.
Don't forget to enter the ZICO giveaway that ends on the 10th! I'll have another one for you this week…and if you link up for the Weekly Chase, then you get 5 more chances to win!
Have a happy Monday, guys! (And I PROMISE I will visit everyone this week. Promise.)