Hey guys! It's Monday, which means two things today:
1. It's Weekly Chase time!!!
2. I'm 6 days away from my race!!!!!! Ah!!!!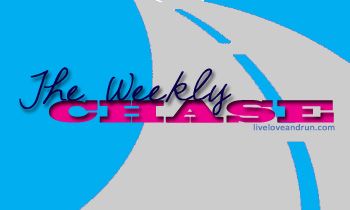 Last week's goals were:
Goal #1: Stay on schedule with my runs. The plan: 10 miles Tuesday, 3 miles Thursday, & 5 miles Friday. (I have an 8-miler planned Sunday, which starts taper week!!!
Check. Check. And check!!!
Goal #2: Continue to eat clean(er), with less sugar, and no late-night snacking.
This went a million times better than it did last week, and while I wasn't perfect, no one is. 😉
Goal #3: Go to bed early…er.
This happened 85% of the week. The other percent went to a night where I went to bed early and laid there until 3AM. Wide awake. Then my youngest woke me up. Then I couldn't sleep. Then I fell asleep. Then she woke me up. Then I found a tick on me. Then I fell asleep…and got woken up at 7:25AM. Not cool, man, not cool. 😉
So overall, I did much better setting the weekly goals to support the bigger goals. This brings me to something I've been thinking long and hard about – goals for after my half! Where do I go from there? When do I race again? Etc. So next Monday you can expect that this post will be a little robust. 😉
And just for fun…
How do you like the bangs? 😀 I got 'em yesterday…thought I'd spruce up the 'do a little before such a big weekend. Haha. (And how beautiful is my little girl? Seriously? And speaking of little girls, head to Lisa's blog and swoon over her brand new baby why don'tcha? :D)
This week's goals:
Goal #1: Taper!!! Tuesday – 5 miles, Wednesday – 4 miles, & Thursday – 3 miles. Thursday will be a little tricky, and I'm trying to decide whether I want to hit the treadmill before we leave or run when I get to my mom's place in Chicago. Might be good for me after a 12-hour car ride?
Goal #2: Get my rest. 8 hours every night. I'm going to be heading in at 9:30/10 every night this week so I don't try getting to sleep that early the night before the race and find myself wired. 😉
Goal #3: Race with heart. I can't tell you how overwhelmed I feel right now…it's insane. I'm scared, excited, worried, proud…I don't want to break records, I don't want to prove anything to anyone…I just want to race with my heart and keep my eyes open to everything that happens around me. I want to soak it all up and make myself proud.
I know this is a short post, and for a Monday, I'm sure that's okay…but I've got SO much to do this week!!! Make sure you link up and share the love!