It's Monday morning, and you know what that means!!!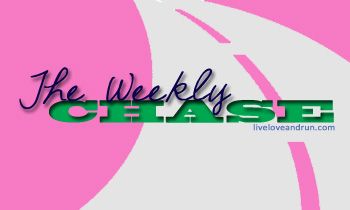 It's
Weekly Chase
time! Last week, I had a better turnout that I expected, and I can't thank you ladies (
Christine
,
Jolene
,
Amanda
,
Molly
,
Ilene
,
Sarah
,
Mindy
,
Holly
, &
Michelle
) for participating. I can't wait to see how you did this week!!! (By the way, I'm super impressed with how you ladies truly did link up and support each other…that's what this is all about, and it makes me so happy!)
So let's talk about those goals, shall we? Last week, I posted these goals as my initial post.
Goal #1: Run all scheduled runs this week.

Goal #2: Start a real, legit food journal.

Goal #3: Stay on track with my strength training and do all scheduled yoga sessions.
How'd they go? Not as planned. There are some reasons, and I'll tell ya why. Goal #1 didn't happen simply because of the weather!!!
If the heat didn't stop me, it was the storm that hit Friday night. I was sitting here trying to figure some blog stuff out, and I heard something slam into the side of my house. At pretty much the same instant, it sounded like a train was coming right for my house…and I threw my kids in the tub.
I'll tell you more about that fiasco later. Long story short, about 2.5 million people are without power right now because of this storm. (Come to find out, there were more tornadoes out in the Williamsburg area last night. For crying out loud.) So…my gym was is still closed. No treadmill and 103º heat (without the heat index). Running did not happen, again. I missed two runs. I've got to buckle down this week – I've got a 12-miler planned.
Goal #2 happened, and I decided to buy a new notebook, because I honestly didn't like writing in the one I already had. I'm picky about my notebooks and planners. So, goal achieved, and I have a new notebook to start July off right.
Goal #3…mostly happened. I missed a yoga session and one strength session. I did most of it, though! I have a plan to tackle everything, and it requires an early wake-up time. (By the way…I am beginning to see shoulder definition!!!!)
This week, I have some new goals. I'm sure some of you read my frustrating, rather whiny post on weight loss the other day, and while I feel bad that you had to hear it, it goes to show you, none of us are perfect and we definitely have our days. I'm over it and I have a way to get through it. (Along with some amazing reminders of how far I've come.)
Goal #1: Clean eating. I kind of fell off the bandwagon a bit after some the barbeques we've had/been to, I've lost track of my eating habits. This is why I started the food journal. It was a good wake-up call, because I realized I was starting to move away from clean eating and toward old habits. I know where my problems lie: pasta and bread. So, I'm going clean paleo. We'll talk about that more this week.
Goal #2: Early to bed, early to rise. I'm giving myself a bedtime. 10PM ideally, no later than 11PM. This is so I can wake up at 6AM to blog and be out the door by 7:30AM for a run or for yoga. It's easy for me to do strength training with the kids around or at the gym, but running and yoga are two things I love and cannot do with distractions and need to be done early.
Goal #3: Start the July #AbChallenge. It's no secret I'm always peeved about my waist. It's been a problem area for me since I was young, and I'm bound and determined to defy genetics. This is one way I hope to do that. There's a short abs workout for every day of the month, and I'll be doing my best to keep up.
My schedule for the week:
Monday: 5-mile run & lower strength

Tuesday: rest
Wednesday: 12-mile run & upper strength
Thursday: yoga
Friday: 5-mile run & lower strength
Saturday: 3-mile run & upper strength
Sunday: 5-mile run & lower strength
**Note: The lower body strength training that I'm going to do is going to be light from now until race day. I'm going strictly uncomplicated, large-muscle moves (squats, deads, curls, lunges) with dumbbells. As soon as training is over, I'll chill out on the heavy mileage and focus more on heavy weight.
There ya have it! What are your goals for this week? Join the Weekly Chase!!!
**Please don't forget to show some love on the others!**