Good mornin'!!!
Would you believe I'm finally getting a hang of a semi-regular blogging schedule? I'm tryin' really hard to tame my scatterbrainedness. (Yep. Totally made that word up!)
I have a few things that I have to tell you about, and one will be in my next post for your weekly runspiration. It totally made my day yesterday, and it involved the kindness of a stranger and what he had to tell me. I honestly didn't know what I was going to write for the post until this happened…and that, my friends, is proof that inspiration can come anytime, from anywhere.  I'll be getting on that later today. First, though, I want to make sure that everyone to whom I promised the Strawberry Avocado Salsa recipe knows I posted it on Saturday! Second, I wrote a really important post yesterday explaining a project I'd really like to get moving on, and it's called The Weekly Chase. <–You can read the post here, obviously, but in short – I'm really hoping to prove that there is incredible power in support systems. I've vlogged about it. I've posted about it. The incredible support system that has been created by a number of incredible women (and men) and me is nothing short of amazing. Knowing that there are so many of you out there rooting for me and the half marathon for which I finally set a date has been exactly what I've needed. With The Weekly Chase, I'm hoping to link bloggers up with other bloggers in attempts to start showing that there is power in numbers. There's so much nastiness out there, and I've got proof that there's so much more kindness. I just need your help by being a part of it! You in?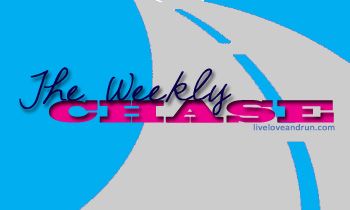 Let's get the goal-chasin' party started, eh?
I've missed a couple of runs during my training, and because of this heat, I'm having a harder time getting outside to run. I'm thanking God that my second half marathon is scheduled for November. There's a scheduled 99º-er this coming week, and I'm not thrilled about this.
Goal #1: Run all scheduled runs this week. I need to make sure that if I can't get outside, that I hit the gym for the shorter runs. Luckily, I have my long run of 11 miles scheduled for Tuesday and the high is only supposed to be around 79º. (Cross your fingers for me, please?)
Recently, we've had several cookouts to attend and my nearly-perfect clean eating has kind of fallen flat. I've been really great about the whole moderation bit, because I don't believe in "cheat meals", but I'd like to take advantage of the less-than-busy next four weeks to fuel my body with clean, whole foods in preparation of my first 13.1. (Four weeks. That's it! Four weeks. PUMPED!)
Goal #2: Start a real, legit food journal. I need to track what hits these lips. I'm getting the feeling that I'm actually eating less than I should, especially on long-run days. I'm quickly realizing that I'm less hungry on days that I run (I may have mentioned this a while ago, too) and have a tendency to skimp on the fuel. On the days I'm not running, I feel hungrier. I need to start balancing out my meals.
I'm going to be completely and utterly honest here. I'm losing weight. (Yeee!) However, I'm not seeing much change in the shape of my body, and I know why. Lack of strength training. I've been strictly running, and I had attempted to start out on some Physique 57 workouts. My living room is far too small for that stuff. No room to kick. No room to raise my hands up without hitting a ceiling fan. Luckily, in a couple of months, I'll be living in a new house with really high ceilings and tons of room in the living room. Watch out, honey…if the room starts looking like a yoga studio, I apologize. I just can't help myself! Tee hee. This past week, I actually printed a calendar and highlighted all of my scheduled workouts.I also started an official weight/stats tracker, because I'd like to see what changes happen now that I'm focusing on getting the strength training in.
Goal #3: Stay on track with my strength training and do all scheduled yoga sessions. I got a couple of abs and upper body workouts in this past week, but I did miss a few. I actually made up a pretty kickass workout if you'd like to check it out. It left me feeling every inch of my abs, that's for sure.
My schedule for this week:
Monday: upper body & abs
Tuesday: 11-mile run
Wednesday: upper body & abs
Thursday: 5-mile run, yoga
Friday: 3-mile run, upper body & abs
Saturday: rest (& maybe some yoga)
Sunday: 12-mile run (this gets me back on schedule with race day after the mid-week long run for the Longest Day)
There ya go. My goals for this week. Nothing too crazy. Just some things to aim for as far as getting back on track and situated and for tracking purposes. I'm looking forward to hopefully markin' those babies off as chased down and achieved!
**Please don't forget to show some love on the others!**